2011 Tornado Damage in Arab, Alabama
On April 27th and 28th, the southern United States experienced the largest recorded tornado outbreak in US history. It is estimated there was a total of 362 tornadoes, with 178 being confirmed. The previous record was set in 1974 with 148 tornadoes. Tornadoes are measured by the Enhanced Fujita Scale (EF). The strength of the storms was incredible with two EF-5's, eleven EF-4's, and twenty-one EF-3's.
| EF Rating | Wind Speed | Effective Damage |
| --- | --- | --- |
| EF-0 | 65 - 85 MPH | Minor damage: shingles blown off or parts of a roof peeled off, damage to gutters / siding, branches broken off trees, shallow rooted trees toppled. |
| EF-1 | 86 - 110 MPH | Moderate damage: more significant roof damage, broken windows, exterior doors damaged or lost, mobile homes overturned or badly damaged. |
| EF-2 | 111 - 135 MPH | Considerable damage: roofs torn off well constructed homes, homes shifted off their foundation, mobile homes completely destroyed, large trees snapped or uprooted, cars can be tossed. |
| EF-3 | 136 - 165 MPH | Severe damage: entire stories of well constructed homes destroyed, significant damage done to large buildings, homes with weak foundations can be blown away, trees begin to lose their bark. |
| EF-4 | 166 - 200 MPH | Extreme damage: well constructed homes are leveled, cars are thrown significant distances, top story exterior walls of masonry buildings would likely collapse. |
| EF-5 | 201+ MPH | Massive / incredible damage: well constructed homes are swept away, steel-reinforced concrete structures are critically damaged, high-rise buildings sustain severe structural damage. |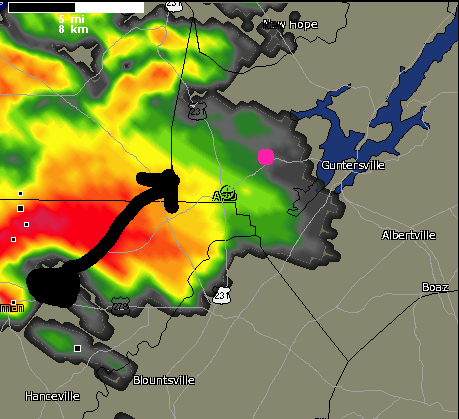 As a RADAR expert, I've watched severe weather events unfold for many years, but I have never seen an outbreak like these powerful and deadly twisters. I watched in horror as an EF-4 tornado with peak winds of 190 MPH came right at me. The base of the tornado was 1/2 mile wide and it traveled across three counties. In the image above and below you can see just how close the tornado came to me (my location is marked by the pink dot).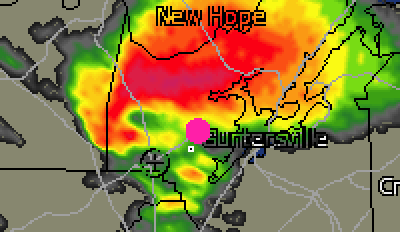 Although I escaped damage from the tornado, many of my neighbors were not so lucky. The storms caused at least 327 deaths, which makes it the 3rd deadliest tornado outbreak in US history.
Millions of chickens died in the tornado and many large animals (horses, goats, and cows) were injured by flying debris. Most of the seriously injured farm animals received emergency medical care. The farmers will have to replace a whole lot of their farm equipment and supplies. I took a photo of a cattle trough wrapped around a tree about 30 foot high. The damages are heart-breaking. The families affected by the storm literally have nothing left, so all of the donations will really be appreciated by those in crisis.
Besides the obvious property damage, the storm will have an impact on the local economies. During the power outages, most families lost hundred of dollars worth of groceries that spoiled without refrigeration. Business was also dealt a severe blow. Many businesses were destroyed by storms, and many more were not able to operate due to the widespread electricity outages. Nearly 4,000 workers have requested unemployment aid due to the storms.
---
Arab, AL Tornado: [ Videos ] [ Storm Photos ] [ Damage Photos ] [ RADAR Images ]