Clever Things, LLC Presents:
---

We've just completed Beta testing of our new social network and will be releasing CleverPeople.com in the winter of 2016.
CleverPeople.com
Social Networking
Activity Timelines
Blogs
Bookmark Sharing
Micro-Blogging
Social Groups
File Sharing
Wikis / Document Collaboration
It's a great way to meet and network with other Clever People!
---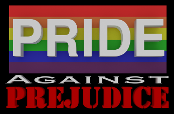 Clever Things, LLC is proud to partner with Alabama LBBT Activist Gary Wright II on producing a book, screenplay, and community organization project using the lessons learned from fighting hate and prejudice in the South.
The Pride Against Prejudice Project consists of:
The Book - Alabama activist Gary Wright II tells the story of how Love conquered Hate in the fight for LGBT equality in The South. The book follows five Southern teenagers coming to age during the period of marriage equality in America. Although the main characters are fictional, you'll see them interact with historical characters and their stories are based upon true events.
The Movie - The screenplay is based upon the book, but the movie will have a twist: In addition to producing a big Hollywood version, we're letting people around the world act out their own versions of the movie. You'll be able to record and submit your own scenes, and we'll post them on our web site. Visitors will be able to see their friends and neighbors acting out their favorite scenes from the movie!
The Movement - Taking the lessons from the marriage equality movement, and standing on the shoulders of the Civil Rights giants who came before us, we'll put the project into action! The struggle against prejudice is a never-ending battle. Join the movement and share your story!
For more information about the Pride Against Prejudice project, visit their web site at: PrideAgainstPrejudice.com
---

NightlifeInAtlanta.com is our complete guide to Nightlife in Atlanta℠ where you will find the hottest clubs, the best restaurants, and most popular social events in Atlanta, Georgia.
We're currently accepting site sponsors for businesses that serve the greater Atlanta area.
NightlifeInAtlanta.com
Restaurants
Entertainment
Attractions
Nightclubs
Bars
Hotels
Limousine
Shopping
Services
Follow NightlifeInAtlanta.com on Twitter at @ATLparty for announcements: Twitter.com/ATLparty