[
CleverThings.com
] [
Cherokee
] → Sequoyah George Gist
ᏍᏏᏉᏯ Sequoyah George Gist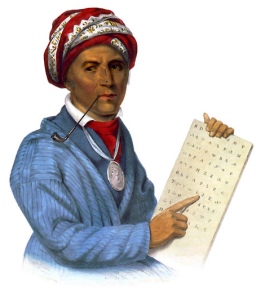 George Gist or Sequoyah was born in 1770 in the old Cherokee town of Taskigi (not to be confused with Tuskegee, Alabama). His mother was a Cherokee named Wut-teh or Betsy and a member of the Ani-wodi or Red Paint Clan. His father was an English fur trader named Nathanial Gist, who later became a commissioned officer with the Continental Army associated with George Washington. After being abandoned by his father, George was raised in the traditional Cherokee ways.
George married Sallie Waters Guess and had four children. He later married Utiyu U-ti-yu ᎤᏘᏳ and had three children. Daughters: Ayoka and Polly, and sons: George Jr., Richard, and Teesey.[TODO whose names are missing?]
In 1813, George served as one of the warriors of the Cherokee Regiment at the Battle of Horseshoe Bend against the "Red Sticks" (Creek, or Muskogee, renegades).
In 1821, George created the Cherokee Alphabet and Syllabary by creating written symbols to match each sound of the spoken Cherokee language. George never learned how to read or write in English, but his work made it possible to use a written Cherokee language for publishing the newspaper The Cherokee Phoenix.
Sequoyah means "pig's foot" and it was a nickname he acquired due to a crippling disability.
George signed his name as Ssiquoya S-si-quo-ya ᏍᏏᏉᏯ, but history has falsely named him as Sequoyah. The largest species of tree on earth is named after him, but they spelled it Sequoia.
---
To learn how to read, write, and speak in Cherokee, visit our page dedicated to the Cherokee Language.